Born and raised in the mountainous Vo Nhai district (Thai Nguyen province), Ly Thi Thuy Duong was always driven to help her community to make the most of the potential of their lands and create livelihoods.
"Since childhood, in my imagination, Australia appeared with sunny green grasslands and kangaroos. That love and curiosity became the driving force, urging me to come to this country and learn about it", says Thuy Duong, now Director of the Advanced Program Office at Thai Nguyen University of Agriculture and Forestry.
After completing her undergraduate studies, Ms Duong saw the importance of education in changing people's lives. She was inspired to continue her educational journey by travelling to other countries, to strengthen the contribution she can make at home in Vietnam. That was the starting point for two journeys to Australia; first for a Master in Development Studies at the University of Melbourne in 2012 through an Australian Development Scholarship (now known as Australia Awards), and the second in 2018 for the Australian component of the "Women in Leadership Journey" course.
She said: "Despite learning about it in advance, arriving in a foreign country, interacting with people there and participating in their activities is still a very special experience. In Australia, even when focusing on economic development, all policies on environment, society, people and others are still given top priority. For a developing country like Vietnam, it would be great if we could harmonize economic benefits with ensuring people's lives as well as preserving cultural values ​​as what Australia is doing".
People of Nung background account for 70 per cent of the population of her home district, and a Nung herself, Ms Duong clearly understands the difficulties of people in mountainous areas, especially ethnic minorities. These experiences have given her even more motivation to think about how to help people when she returned to Vietnam after living, studying and working in Australia.
While in Australia, Ms Duong learned from Australian Indigenous people to understand how they operate sustainable, and successful, community tourism. Determined to "make great things from the smallest things", in 2022, she and her colleagues applied for, and won, funding from the Australian Alumni Grants Fund through Aus4Skills to promote community tourism development in Vo Nhai district.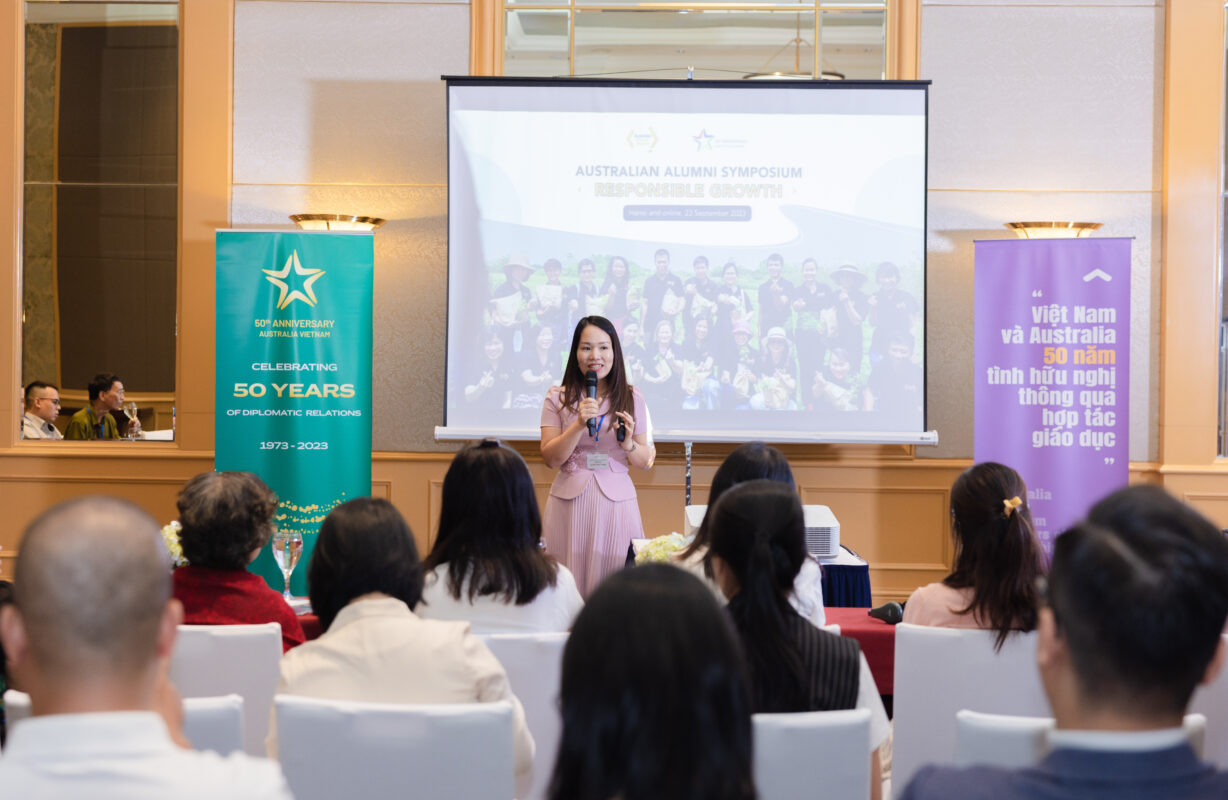 Ly Thi Thuy Duong presents her project "Promoting the sustainable development of community tourism in Vo Nhai district, Thai Nguyen Province" at Australian Alumni Symposium in Hanoi.
With its majestic mountains and waterfalls, Vo Nhai is blessed by nature and until mid‑2019, tourism was key to the economy. However, the outbreak of COVID-19 slowed down economic opportunities. Local lack of knowledge and technology skills also made it difficult for people in the district to adapt to digital options to create momentum for community tourism.
With their grant, Ms Duong's group has implemented a series of activities since June 2022. This has included connecting local authorities with Vietnamese and international experts to share experience and successful models in using technology in community tourism development. The project then aimed to establish a website so local people can easily reach potential tourists.
She said: "Many people think that developing community tourism is just a supplementary activity to increase a portion of income yet do not seriously promote it. We talked to them about technological skills, from the simplest things which are easy to grasp and realise. That is how to use Facebook, operate fanpages effectively, cooperate with key opinion leaders, take photos, and produce simple videos, etc. We also organised trips to other ethnic minority villages for them to learn about how people develop community tourism there".
Ly Thi Thuy Duong and team give instruction to local tourism businesses on using technology in promotion.
At the same time, Ms Duong believes that project's success relies on the strong support from the Australian Government through Aus4Skills. Throughout the project, the group received a lot of financial support, advice on project implementation, and assistance with connecting to other stakeholders to spread their message.
"Our project lasted one year and ended in January 2023. 100% of participants are satisfied with this change and agreed to apply the knowledge on technology they have learned. In addition, the engagement of local government in developing community tourism in Vo Nhai district is also the motivation for us to believe more in the potential of the project. From this year, visitors can visit Vo Nhai through an 'online tour' instead of coming there in person, which can also be considered a success. We have popularised this model to our partners," shared Ms. Duong.
Although the project is completed, she and her colleagues still want to be able to contribute to the community. Ms Duong wants to focus on creating good economic opportunities for the younger generation, especially disadvantaged groups.
"Aus4Skills is contributing to changing each person's life, thereby expanding changes to the whole community. Not only our group, Aus4Skills is still giving people the opportunity to inspire society through various programs and activities. I hope Aus4Skills' support will reach more targeted groups in the future", she affirmed.
Aus4Skills is a 10-year cooperation program between Vietnam and Australia, valued at AUD86.4 million, that is supporting Vietnam to develop human resource capacity to seize economic opportunities and achieve long-term development. Through Aus4Skills, Australia helps alumni from Vietnam implement projects that contribute to the socio-economic development with funding from the Australian Alumni Grant Fund (AAGF), up to 325 million VND per project.